Until mid-2018, it was not possible to request an account verification badge on Instagram. But starting in August/2019 you can request an account verification badge from the app itself.
The badge serves to identify accounts of famous people, celebrities and brands, change users and the authenticity of profiles.
Do you know how to get verified on Instagram? We'll show you how in this article!
Instagram seal of authenticity
As with other social networks, Instagram has created the blue badge to prevent the thrive of fakes account and give an extra hand to companies and brands. The blue circle with a white check in the middle appears next to the Instagram account name, search field, and profile.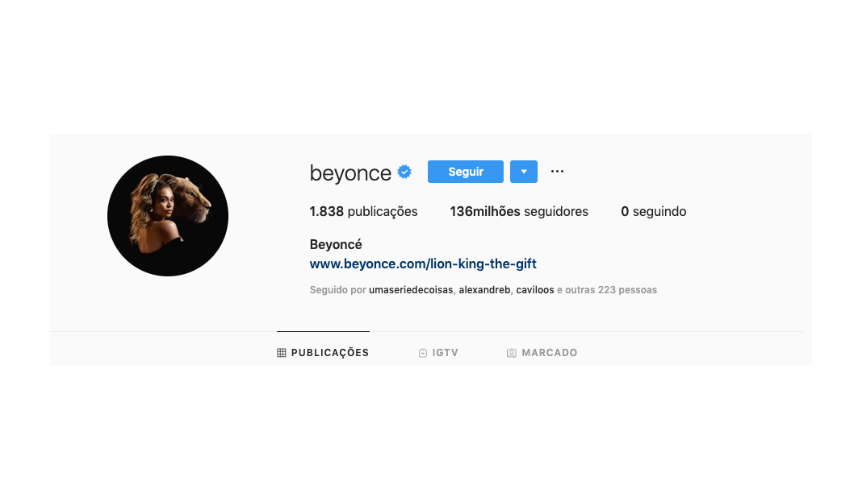 The small icon now represents a higher account status on the social network. Also, having a verified account makes your profile appear at the top of search results, because Instagram understands that that account is a "priority".
Because of this, a lot of people have been willing to pay Instagram employees fraudulently just to have their account verified. But the extra income of these employees is now gone, as anyone can now apply for verification.
I'll teach you how to do it below!
How to have a verified Instagram account
You can request the badge directly from the app on your mobile phone:
Open your Instagram profile and click the gear symbol, which represents the settings.
In the Account part, you will see the Request verification option.
Inside this tab, Instagram will ask for your full name and photo of a document that proves your name, such as an ID, Passport, Driver's License or even business documents. such as tax returns or recent utility bills.
Attention: it's important that you enter your name exactly as it's written in the document. After that and attaching the file, click Submit.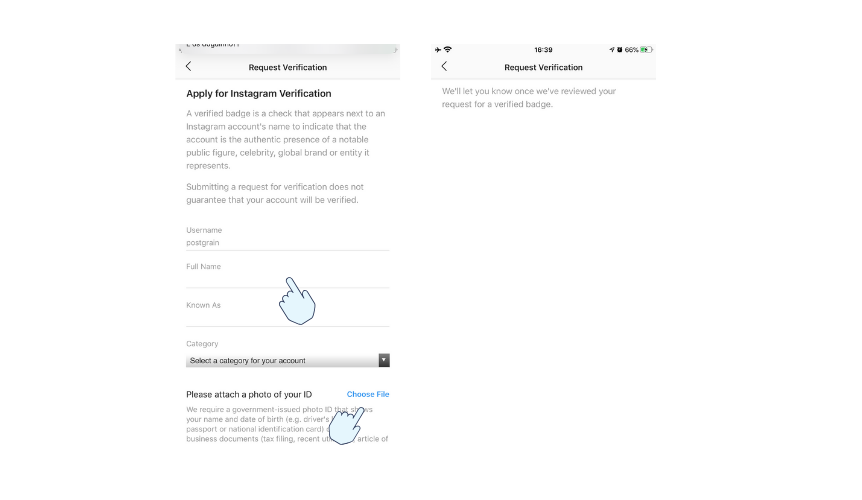 In less than a week you should already receive an answer about it. And it may not be positive.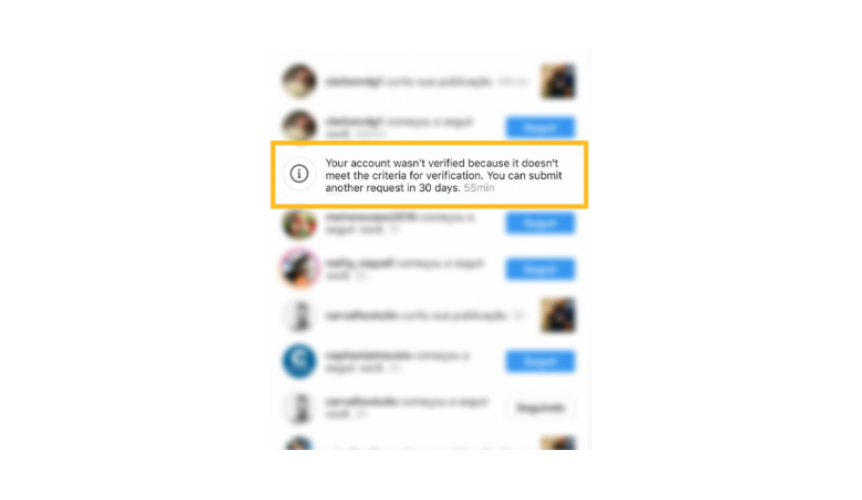 We did a test with a personal profile and that was the response we received after 4 days of the request. Basically Instagram said the profile could not be verified because it did not meet the verification criteria. If this happens, do not despair: you can request a recheck after 30 days.
Tips for having the verification request accepted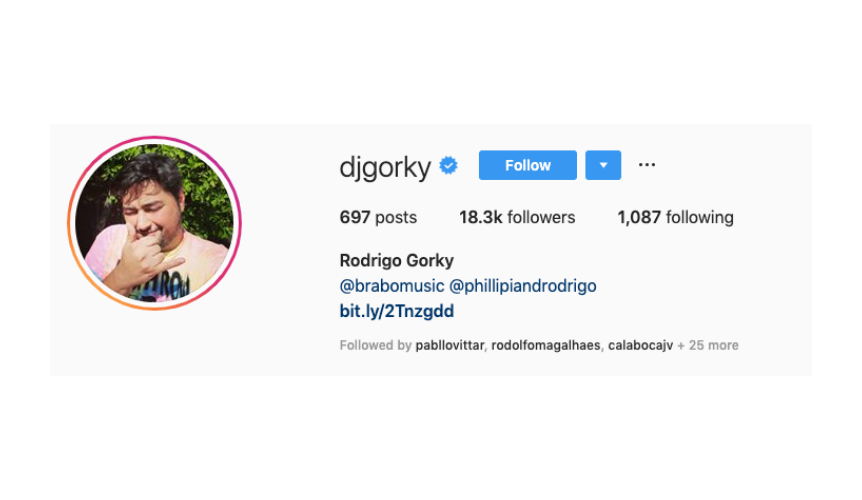 First of all, write it down so you never forget: your number of followers doesn't determine whether or not you will earn the verification badge. Currently, Instagram accounts have millions of followers that are verified, while others with less than 20,000 followers also have the seal.
As we have seen, it is possible that even if you request the seal, it will be denied. So here are some practices that can help you get ahead of this race:
Provide proof that your profile is real
Instagram only gives the badge to profiles that are undoubtedly true. Therefore, you need to show this to the tool.
Use links from your other social networks and post personal photos or your product (if it's your company profile). If you want the blue stamp so badly, avoid reposting other people's photos (even more uncredited).
Posting personal content produced by you or your business, that is, unique and exclusive, helps Instagram understand you as the true owner of that account and see you with better eyes. After all, you are putting new content on the platform.
Also, give a brief description of who you are or what your company is doing in the bio. Still in the bio, provide a real link that takes the user to a real site of your company.
Respect Instagram Standards
The rule here is simple: To be well liked by Instagram, you must adhere to the guidelines of his house. This means not using automation tools to gain followers or like multiple photos and make equal comments on multiple posts.
Instagram prizes for the good conviviality and a good experience in the tool. When you have a user who makes hundreds of equal comments on multiple posts and fraudulently earns followers, you can be sure that this will be very badly regarded by the app.
The same rule applies to spam. This kind of conduct I reported above is already a form of spamming, but there are also users who post the same post several times a day, thinking that only then will they be able to make all followers see it.
In addition to being wrong about how the algorithm works, this user is also not well liked by Instagram because they are not offering any new content and most likely are not guaranteeing the good experience of their followers by flooding their feed.
Another Instagram norm you always need to be on is copyright. Under no circumstances replicate content or post a photo or video of your own without proper credit.
Don't even think about posting photos or videos with explicit nudity or that advocate illegal practices, huh? Also, to be within Instagram guidelines, always comment on other posts respectfully.
Strengthen your presence on other social networks.
Instagram often checks accounts of those who have shown media influence in some way, whether on TV, Youtube, or newspaper articles, for example. Being known will help you a lot to earn the blue seal in this case.
That's why it's very important to strengthen your brand presence outside of Instagram.
YouTube is still a great place for that! The platform allows you to educate users about your niche or the product you sell. Best of all, producing in content format that will account for 80% of internet traffic by 2020.
Spare no effort to invest in this network. YouTube has great potential to reach people who don't know you yet, as videos uploaded to the platform can be shared on most social networks.
If your goal is to attack a more corporate audience, pay close attention to LinkedIn. The network is a great meeting place for networking and nurturing users about your brand, product and service. The cool thing is that on LinkedIn you can find more qualified people about your business who are more likely to engage with you.
A good way to strengthen your media presence is by partnering. When – and if – you have the money to invest, don't hesitate to launch a product or offer a service in partnership with a well-established company in the market. This is a great way to solidify your image in the marketplace and at the same time on Instagram.
Get a Facebook verification badge
Getting a Facebook stamp of authenticity will surely help you to be well regarded by Instagram. To request the verification badge, you must have a page set up for your local business, company, or organization. Also remember that it is possible to have a verified Facebook account but not receive the Instagram badge, ok?
To try to get the blue badge from Facebook, follow the walkthrough:
Click Settings at the top of your page;
Under General, select Page Verification, the second option in the right-hand menu;
Click Verify This Page;
Enter a phone number for your business that is publicly listed;
Click Call Me Now. Facebook will call you with a verification code;
Enter the 4-digit verification code and click Continue.
Once the walkthrough has been completed, Facebook will begin the process of verifying your account, which may take a while as there is no specific deadline for the return of the request. After they review, you will receive an email that will tell you if your order has been accepted or not.
How to report a fake Instagram account
If you bump across fake accounts impersonating you, reporting that profile on the Instagram is the best way to deal with it.
Visit the profile you want to report, click the three horizontal dots icon at the top right and select Report.
Then follow this path: Inappropriate > I believe this account violates the Instagram Community Guidelines > Report Account > This profile is mimicking someone or May be posting intellectual property owned by me without permission.
You can also report an account through this form.
If you have any doubts, let us know down here in the comments!